Fashion is seasonal, but style is forever. Your personal style will be a constant throughout your life, while the fashions you indulge in will vary, sometimes weekly. Clothes are so much more than just something to wear because of the weather or for propriety's sake.
There have been several sad incidents where the desire to adhere to fashion standards has led some people down a dark path. Eating disorders such as anorexia and bulimia are treatable, but it is best to avoid reaching that level of unhealthy unhappiness.
Understanding fashion and learning how to find your unassailable sense of style is integral. This will help you to dress the way you want while finding confidence and courage within yourself. By establishing your sense of style, you will find that finally, you wear the clothes instead of the clothes wearing you.
Look Beyond the Label
This applies to both the name of the label as well as the size on the label. Fashion models might be slim and slender, but the average person is unlikely to be that small. Fashion models combine their genetic gifts with extreme physical fitness and dietary regimen to maintain their small size.
Try to think of fashion models as professionals who have trained to do their job because that is what they are and how we should view them. If you do not expect yourself to be a master chef with everything you cook, it is unhealthy to expect yourself to a model with everything you wear.
Wear Everything at Least Once
Personal style comes from knowing what makes you happy but also from knowing what looks good on you. If you avoid certain cuts or materials, you might want to reconsider and try wearing them. Relegating any item as unsuitable before you ever tried it on is a great way to miss out on a cut or color that turns out to be very flattering for your body.
Perhaps pencil skirts or bootleg jeans look amazing on you. Maybe purple or topaz is your color. You will not know till you try them on. So take the risk and try out different types of clothing. It is okay to feel a bit ridiculous because as long as you project confidence, no one else will tell. You might even be surprised by how many compliments you get for being bold with your clothing choices.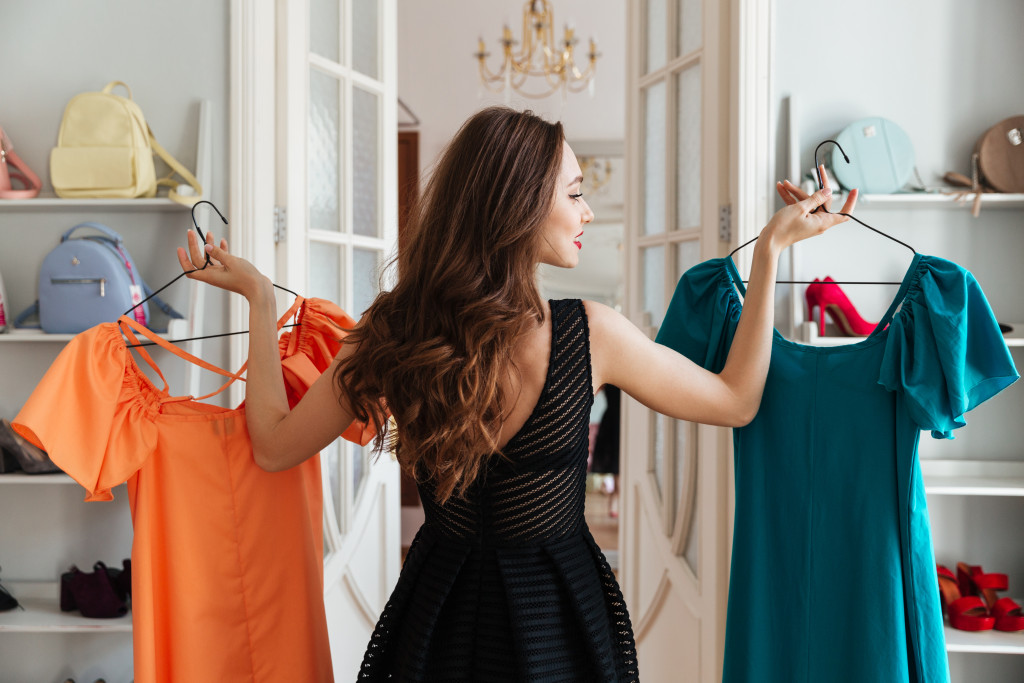 Confidence Is Everything
If you are not confident within yourself and with your choices, you can be in the most expensive designer outfit and still feel blue. You can be in a cheap outfit with confidence and still look and feel like a million dollars.
Looking confident is a trait that big brands look for in their models as well. So many supermodels have come forward or revealed in their biographies that they suffered from self-image issues. But, they all knew how to project self-confidence, which helped them sell the brands they represented.
How many times have you seen a model looking fabulous in an outfit you know you do not like? It is their confidence that makes it seem so stunning. Work on your self-esteem, and you can look good in every item of clothing.
The Classics Will Never Let You Down
If expense and availability is an issue for you, then focus on the classics of fashion. One pair of blue jeans that fit you well is better than any number of ill-fitting pants. Find your primary color and integrate that into your clothing.
Black is always your friends as it is the best way to look chic and hide unflattering parts of yourself on days when you need to feel low-key. Integrate your accessories with monochrome clothing to make a big impact with less. For example, an all-black outfit with a bright scarf to draw attention will make you look stylish and bold with very minimal effort on your part.
Style is something that is within you. So work on your self-esteem and self-confidence first before any forays into fashion. Finding your inner self will reveal your true sense of style. You can dress dowdy now, but with self-exploration, you might find that you are a bright and colorful diva.
Never hold yourself back because of what other people say. Fashion designers and supermodels are some of the most criticized people on social media and magazines. But their dedication and love of style keep them focused on what matters most to them.
This is the only thing you need to take from fashion: Focus on your own goals. Style is what matters most at the end of the day.