Planning your wedding is both exciting and overwhelming. There are a lot of things you need to prepare before you exchange your vows. It's easy to get lost if you're not following a timeline, so you need to time everything to ensure a smooth and streamlined wedding. Below is a 12-month wedding timeline of events you can follow leading to your big day.
12 Months Prior
1. Determine the budget. Sit down with your partner and do the math. It's best to use a detailed spreadsheet to keep track of changes as you plan your wedding.
2. Come up with a guest list. Set the numbers of who will be invited to your big day. When creating a guest list, consider your budget.
3. Form your bridal party. Planning a wedding takes a team effort. Gather your most trusted people who can help prepare for your dream wedding.
4. Book a venue. Explore your private wedding venues options in Wichita before you set the wedding date. Consider your guest count and your budget.
5. Select the wedding date. Determine the best day to hold your wedding. Dates can affect the pricing and availability of the venue, vendors, and guests.
11 Months Prior
1. Choose your theme. How do you picture your dream wedding? What style do you want? This is the time to decide on the details of your big day, from the décor to floral styling and color.
2. Hire vendors. They will make your wedding a memorable one, so contact them before they book up. This includes your photographer and videographer. Meet with them and set your expectations.
3. Organize catering. Determine what your menu will be. Be sure to consider intolerances and allergies of your guests to keep them happy throughout your big day.
10 Months Prior
4. Shop for a wedding dress. This is one fun aspect of organizing your wedding. Be sure to make plenty of time to choose your wedding dress. Look out for designs in boutiques and online.
5. Take engagement photos. Practice how you will look in front of the camera.
6. Look for invitations. You can start checking out invitation designs to make an impact.
8 Months Prior
7. Order the wedding dress. It's time to buy your chosen wedding gown. Buying early prevents rush fees and costly last-minute alterations.
8. Send Save the Dates. Let your guests know about the date of your big day. You can expect for the RSVPs at a later month.
6 Months Prior
9. Begin HMU trial. Check inspirations and your old photos to determine the best look you can have on your big day. Work with your hair and makeup stylists and do some trials.
10. Order the cake. It's time for cake testings. Visit some cake designers and choose the flavor, style, and size according to your budget.
11. Source music. Decide on the music that will make the event more special. Book your favorite band or DJ from Wichita who will provide entertainment on your chosen private wedding venues.
4 Months Prior
12. Order bridesmaid dresses. Let your bridesmaids fit dresses and accommodate for personal preferences and body shapes. The goal is to make them satisfied with what they'll wear.
13. Organize groom and groomsmen attire. Don't forget to dress your groom and his guys, too.
14. Book the honeymoon. Work on both your wants and wishes for your honeymoon. Plan your itinerary and activities, and don't forget to book early to ensure your accommodation.
2 Months Prior
15. Organize wedding favors. Choose gifts for your guests. The key is to make it personalized. Make something that has a meaning to you as a couple. Also, start early if you're making this a DIY project.
16. Order wedding invitations. It's time to prepare your invitations. Don't forget to doublecheck the details of the invitation.
17. Finalize vows. Work with your officiant to cover important parts of the ceremony. Think about your journey together when writing your vows.
18. Invite your officiant for a dinner rehearsal. Loop in your officiant about your expectations for the ceremony.
19. Organize transport. Get your transport ready for you, your bridal party, and your family.
20. Send invitations. It's time to let your guest know about the details of your wedding.
6 Weeks Prior
21. Organize your marriage license. Make sure your wedding is official on paper. Check out your state's requirements when it comes to wedding documents.
22. Ensure you are on the same page with all vendors. Check if they got the date and venue right. Also, see if they meet expectations and are already prepared for your big day.
23. Finalize ceremony and reception details. Confirm everything is in check with your organizers.
24. Chase up RSVPs. Determine who will be coming to your wedding.
3 Weeks Prior
25. Shop for small items. Go into the finer details and shop for the table numbers, cake stand, ring bearer and flower girl accessories, and other small items you need.
26. Create a seating chart. Once you have the RSVPs, arrange your guests' seats. Make sure friends and families are seated near one another.
27. Final dress fitting. See yourself in front of the mirror one last time and check if you need final alterations.
28. Pre-wedding celebration. Trust your bridal party to organize a fun send-off for you.
1 Week Prior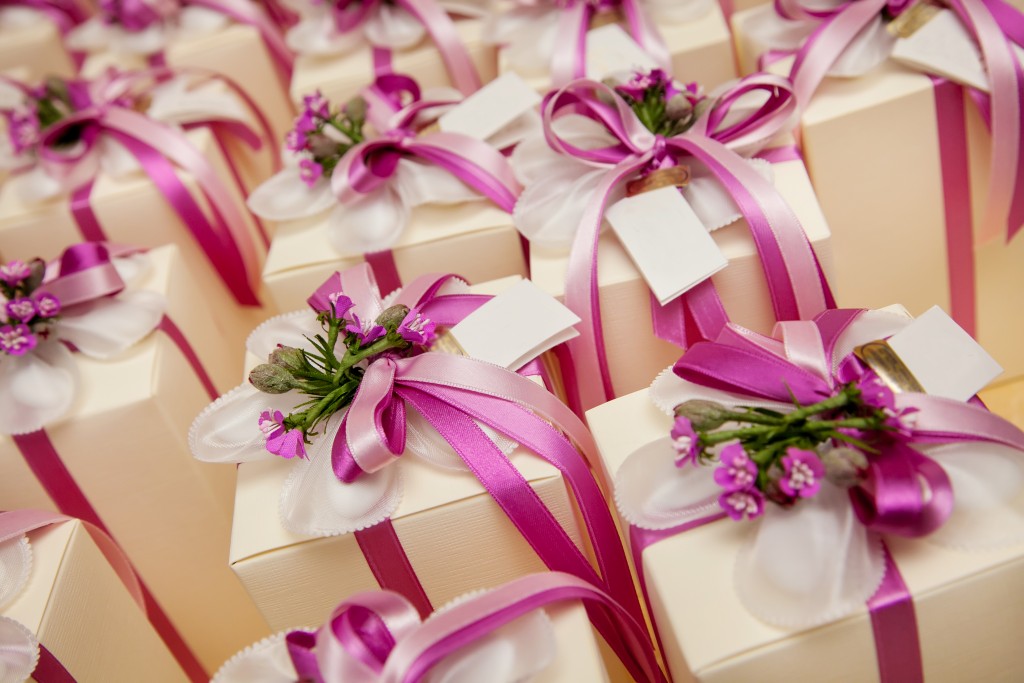 29. Do a final headcount. Give the final headcount to your caterer, venue, and vendors.
30. Practice your vows. Get your partner and practice saying your vows.
31. Treat yourself. It's time to glam up and relax. Get a hair color, manicure/pedicure, massage, eyebrow flick, and more to look your best on your big day
Follow this timeline and eliminate stress when preparing for your wedding.